Women Shaping Our Future: Meet 25 women who will have a massive positive impact on the world in the next ten years
The Women Shaping our Future campaign has returned for its third edition, highlighting 25 women making a significant impact in their communities and the world. These women are changemakers, innovators, and leaders in their respective fields, working to create a more equitable, sustainable, and just future.
In 2021, ChangeNOW launched the Women for Change initiative to support women who are changing the world through their projects and messages. This initiative is a platform for trailblazers advocating for environmental protection, human rights, and social justice while connecting them with a strategic community to help them thrive.
The Women Shaping our Future campaign, a crucial part of this initiative, showcases 25 women who will significantly impact in the next decade. These women's unique and powerful stories push boundaries and inspire a generation to join them in creating a better future. Organizations such as UN Women, HeForShe, One Young World, Women in Tech, and SHE Changes Climate, along with influential personalities like Chiara Corazza, Hindou Oumarou Ibrahim, and Clover Hogan, have recognized and supported the campaign.
Women often face significant barriers to accessing visibility, recognition, and business opportunities, and the Women for Change initiative aims to break down those barriers by highlighting these women and their achievements. The campaign's focus on women is essential in promoting their contributions to society and inspiring others to follow in their footsteps. 
It's a celebration of women making a difference, a tribute to their courage, and a call to action for others to join them on this journey toward a better future.
The pressing challenges humanity must address for a better and more sustainable world include climate, resources, biodiversity, and inclusion, all while taking the human factor into consideration. In light of these challenges, this year's campaign features 25 women who have impacted these areas, providing new narratives from changemakers who have the courage to push boundaries and think differently, despite the obstacles they face as women. We are proud to share the portraits of these inspiring women who are setting the course for generations to come.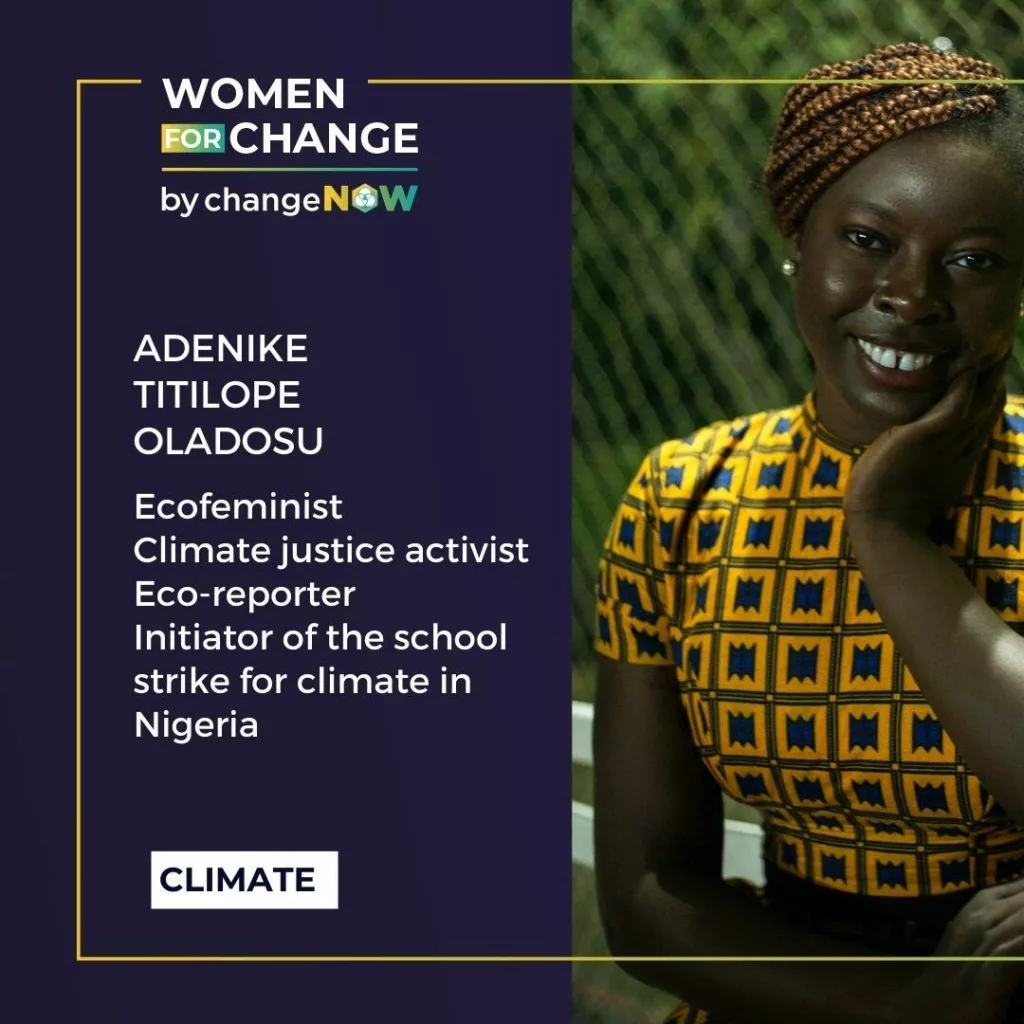 Adenike Titilope Oladosu,
Founder and Executive Director of I Lead Climate Action Initiative, Nigeria
Adenike Titilope Oladosu's tireless efforts as an ecofeminist and climate justice activist have inspired many as she raises awareness about climate-induced problems in conflict zones and rural communities. Her work brings much-needed international attention to these issues, and she advocates for disarmament, regional stability, and sustainable livelihoods. With recognition from numerous organizations and her presence at international conferences, Oladosu inspires action toward facing global climate change.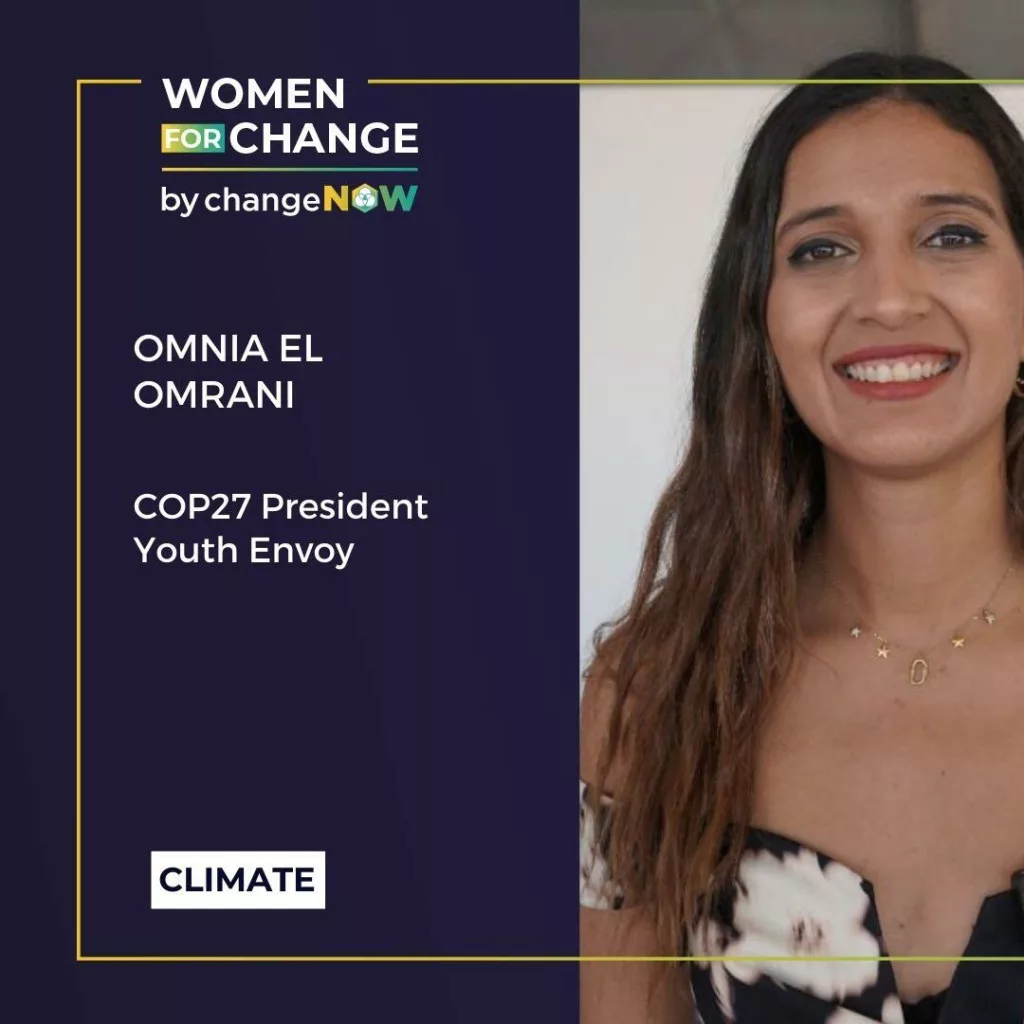 Omnia El Omrani,
COP27 President Youth Envoy, Egypt
Omnia El Omrani's work as the first Youth Envoy to the President of the UN 27th Climate Change Conference (COP27) is a testament to her passion for climate activism. As a doctor, she advocates and raises awareness about the harmful impacts of climate change, such as the severe injuries, stress, and anxiety that extreme climate events can cause. Through her participation in numerous international forums, El Omrani is committed to building safer, cleaner, greener cities for children and youth.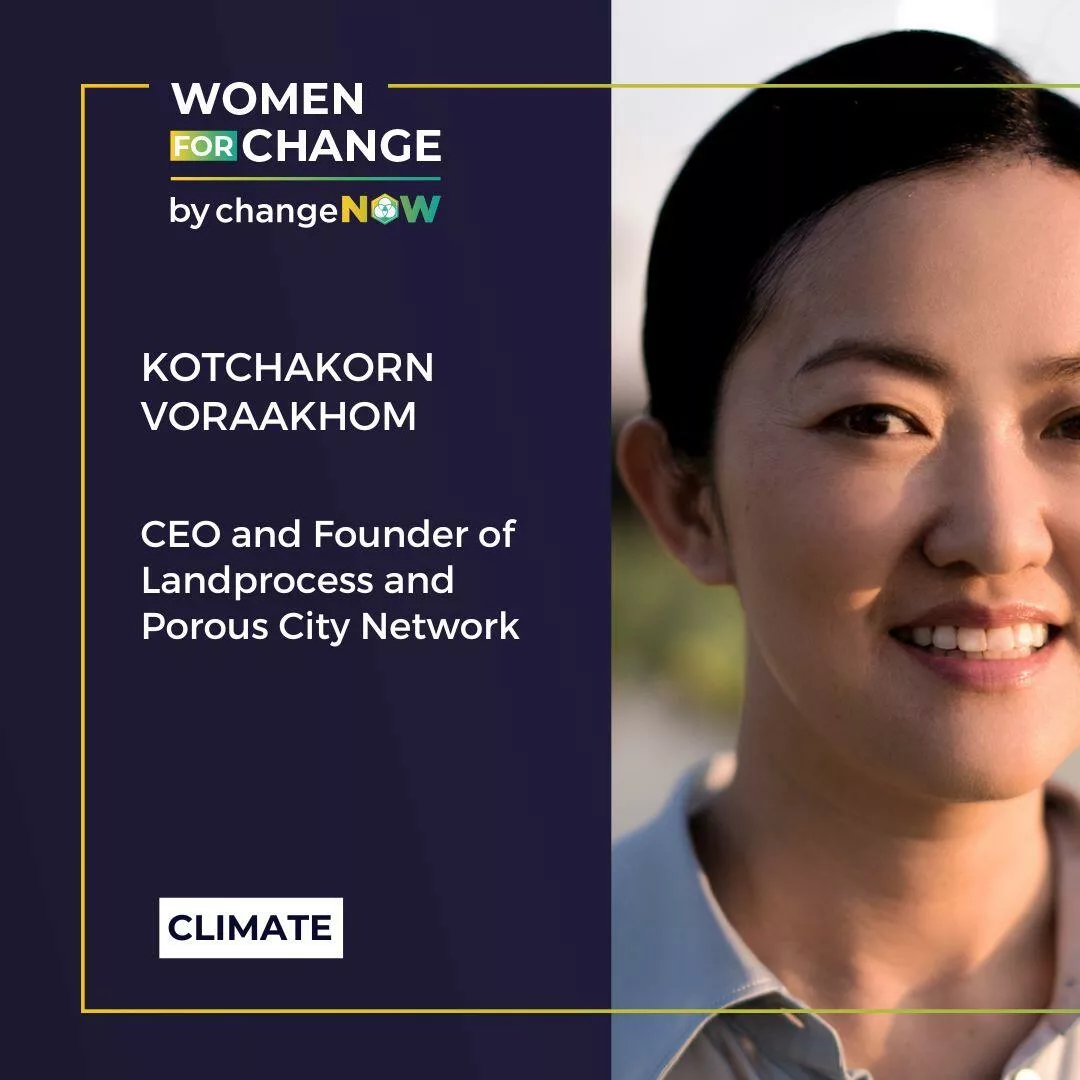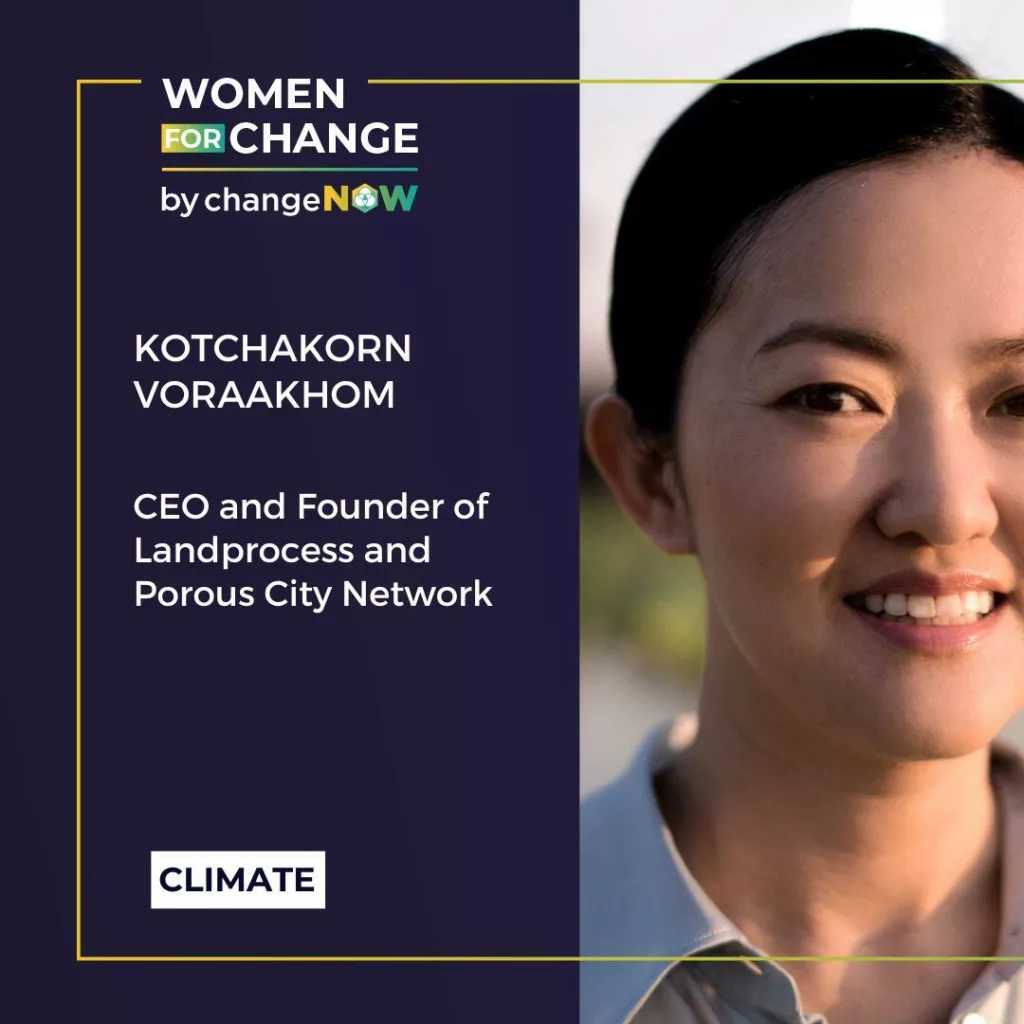 Kotchakorn Voraakhom,
CEO and Founder of Landprocess, Porous City Network, Thailand
Kotchakorn Voraakhom is an architect, and passionate activist, dedicated to transforming the way cities are designed. Through her enterprise, she is committed to increasing the resilience of cities in Southeast Asia against the impacts of climate change. Her work and innovative designs set a new standard for sustainable urban planning and inspire change worldwide.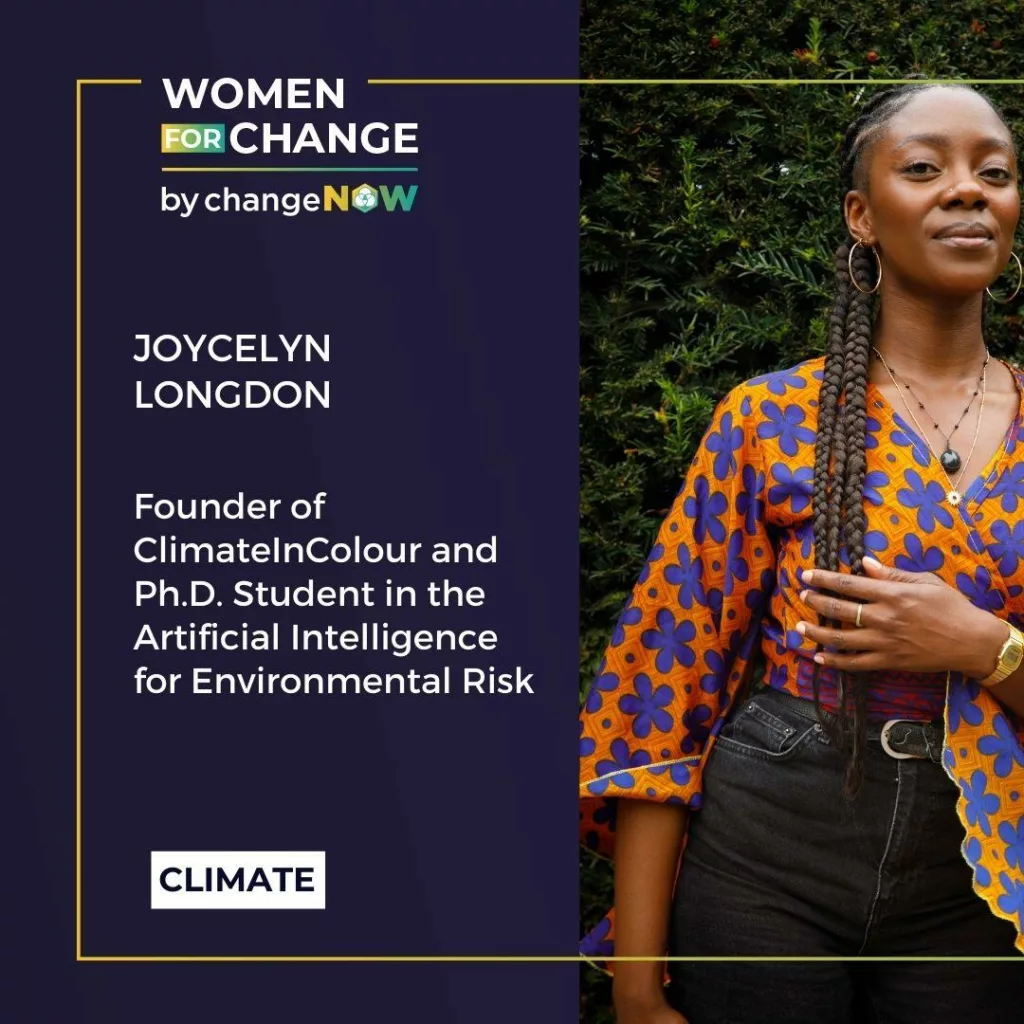 Joycelyn Longdon,
Founder of ClimateInColour, and Ph.D. Student in the Artificial Intelligence for Environmental Risk, UK
Joycelyn Longdon's work as the founder of ClimateInColour and a Ph.D. student in Artificial Intelligence for Environmental Risk in the UK is both innovative and inspiring. Her online platform provides a unique approach to educating and encouraging discourse among the "climate curious," making environmental topics more accessible and diverse.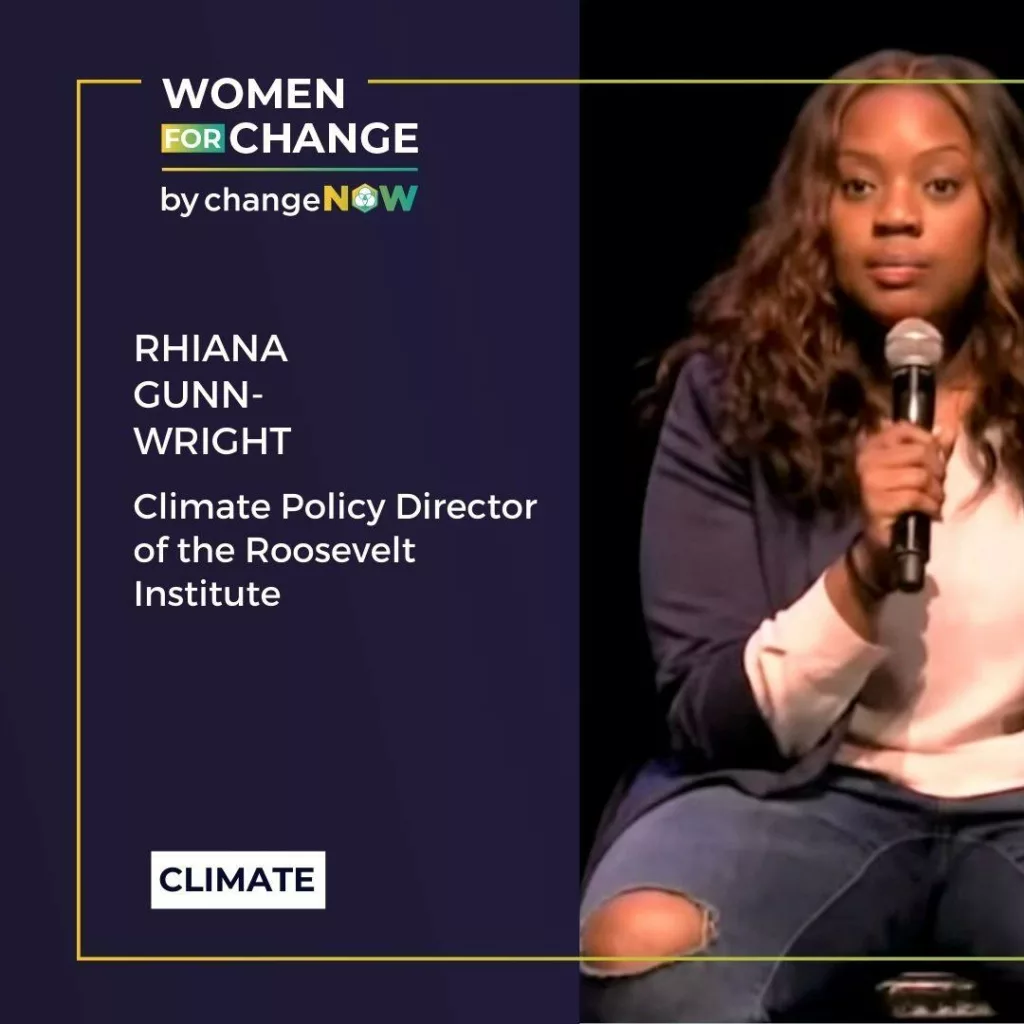 Rhiana Gunn-Wright,
Climate Policy Director of the Roosevelt Institute, US
Rhiana Gunn-Wright's work as a policy advisor has been instrumental in advancing the Green New Deal and pushing for new policies and regulations that prioritize economic mobilization towards a zero-carbon economy in the United States. Her contributions behind the scenes at the Roosevelt Institute have paved the way for a more sustainable future and are a shining example of how policy and activism can work together to make a real difference.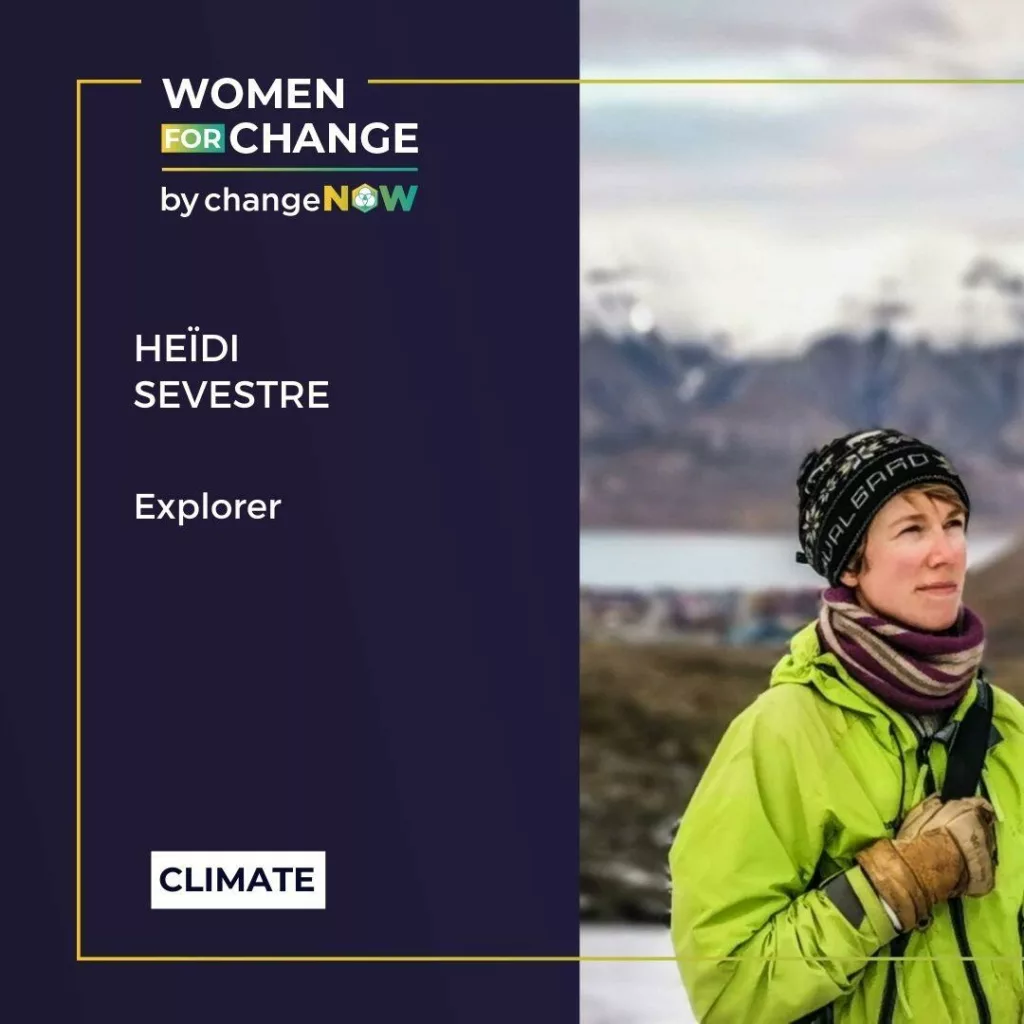 Heïdi Sevestre,
Explorer, France
Heidi Sevestre is a pioneering glaciologist whose field-based research and studies of glaciers worldwide have been transformative in understanding the effects of climate change. Her dedication to science outreach is reflected in her lectures and documentaries, where she communicates her findings and explains the impacts of climate change to the general public. Her work inspires many to take action toward a more sustainable future, and her focus on science communication is crucial in ensuring that the public is aware of the pressing issues facing our planet.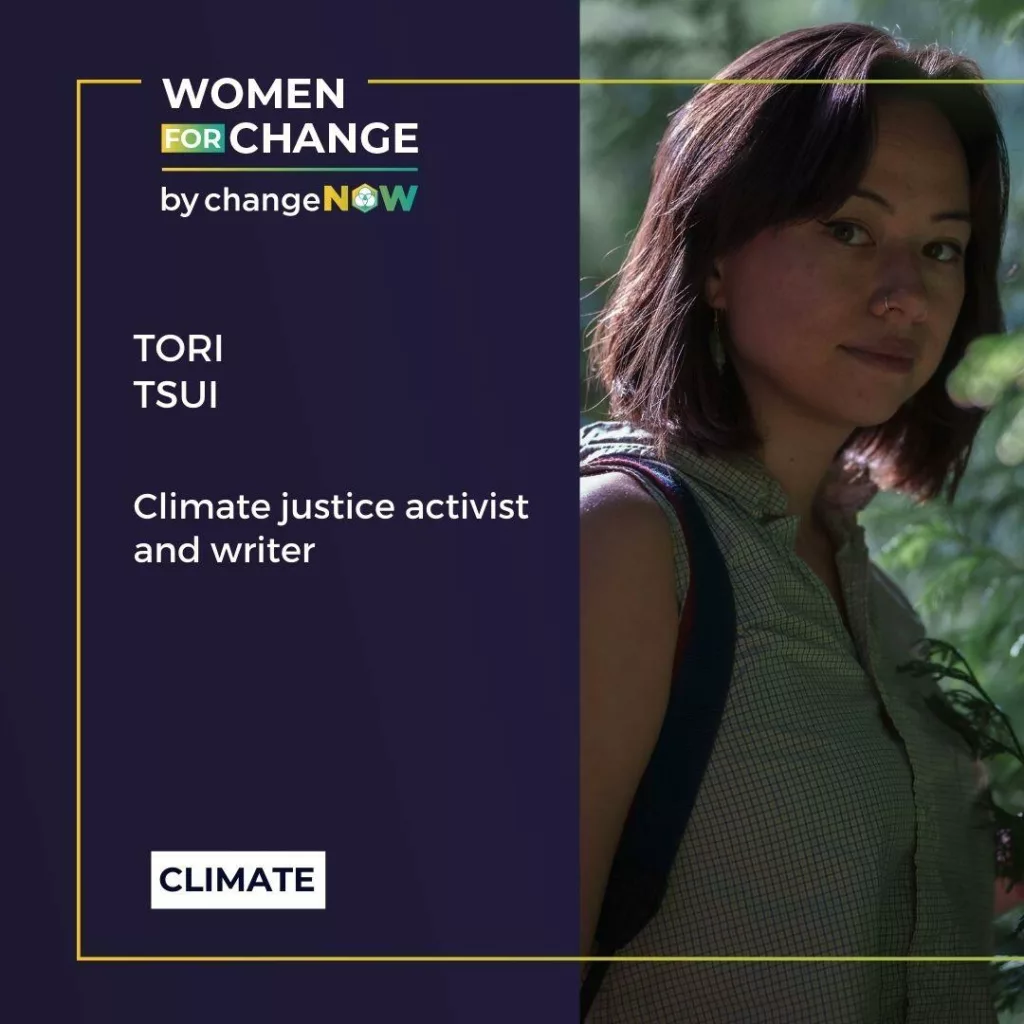 Tori Tsui,
Climate justice activist and writer, UK
Tori Tsui is a fierce advocate for climate justice, ensuring that climate policy, action, and organizing are intersectional, inclusive, and transformative. She also emphasizes the connection between the climate crisis and mental health issues, highlighting the urgency of facing new pathologies that have arisen as reactions to living through a mass extinction event. Tsui's work inspires many, and her focus on intersectionality and inclusivity ensures that marginalized communities are represented in the fight for a more sustainable future.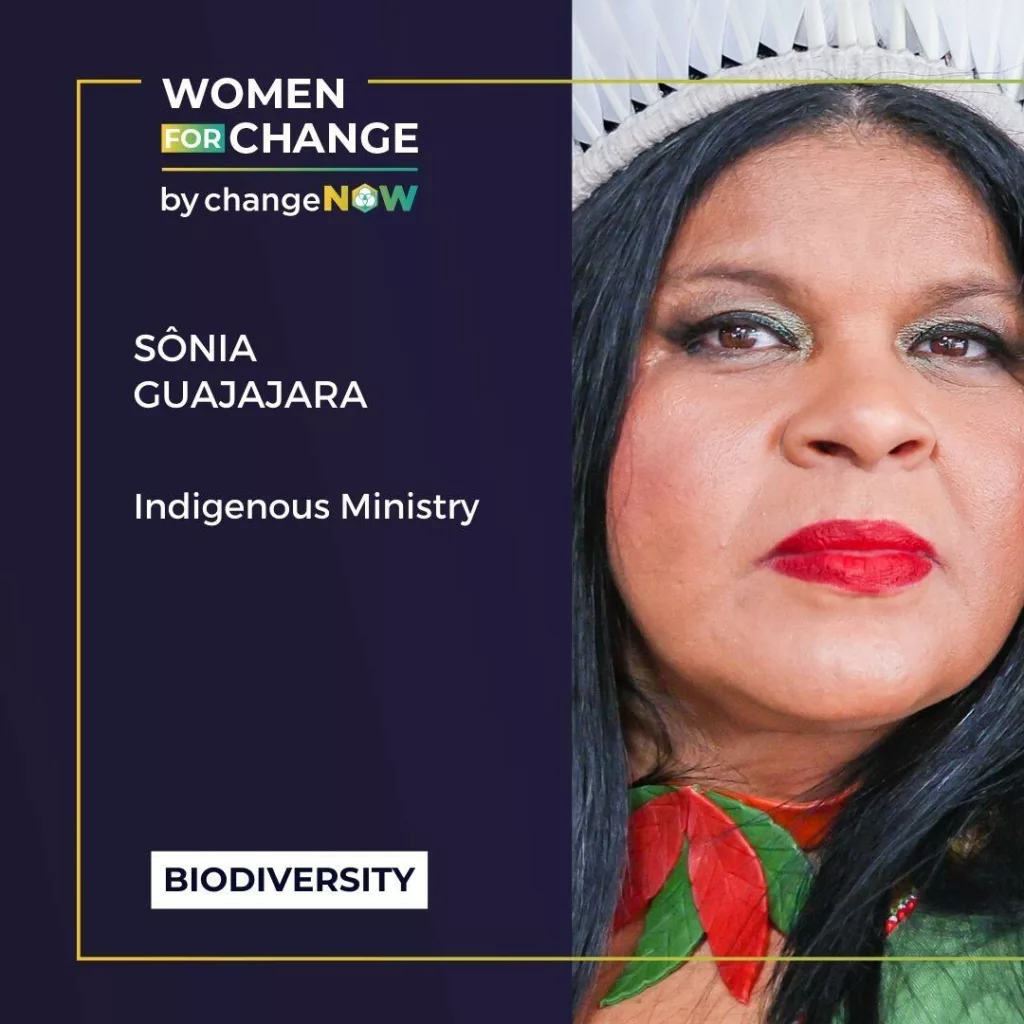 Sônia Guajajara,
Indigenous Ministry, Brazil
Sônia Guajajara is a trailblazing leader and Brazil's first-ever indigenous minister. Her unwavering commitment to fighting for indigenous rights and the environment has made her a prominent figure in the struggle against the catastrophic effects of deforestation and violence in the Amazon region. Through her tireless work to prioritize the demarcation of indigenous lands and combat environmental crime, she is challenging the legacy of destruction and devastation left by the Bolsonaro administration.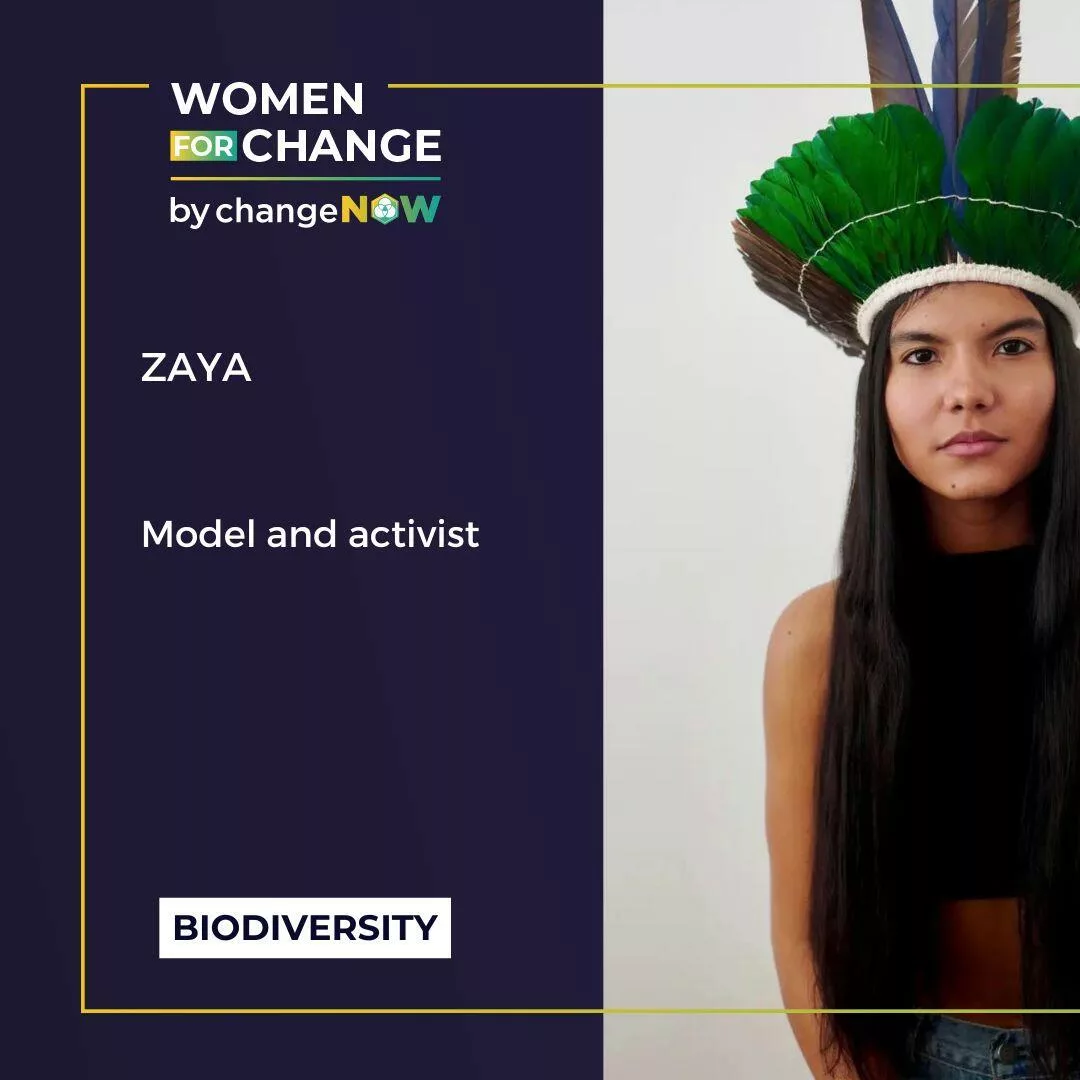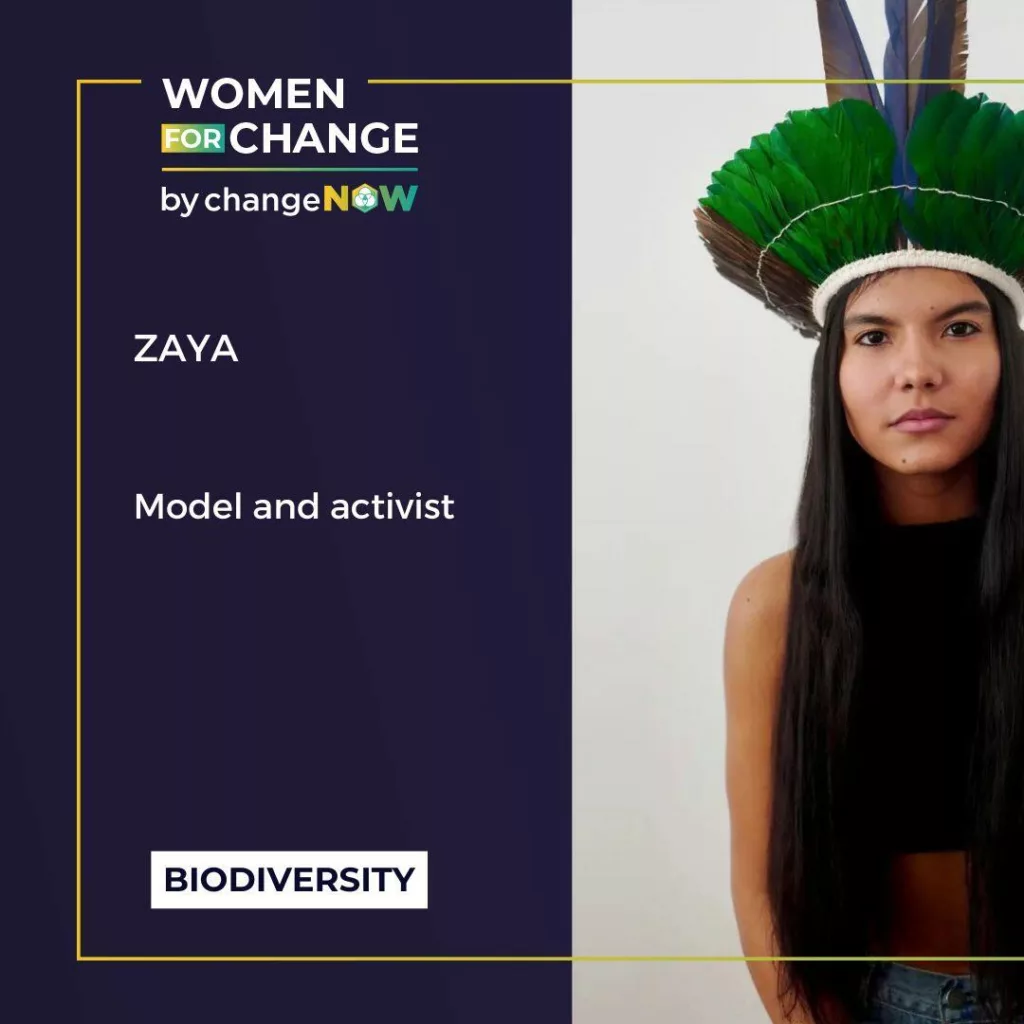 Zaya,
Model and activist, Amazon rainforest, Brazil
Zaya Guarani is a dedicated advocate for indigenous rights and environmental protection. As a leader and representative of many indigenous people, she works tirelessly to reaffirm their rights as the stewards of territories that play a crucial role in the survival of humanity in the coming decades. As the first fully indigenous model carrying these important messages, she inspires many to join the fight for a sustainable future that honors and protects the land and its people. Through her unwavering commitment and support from other indigenous leaders, she raises her voice for their cause both within and outside Brazil.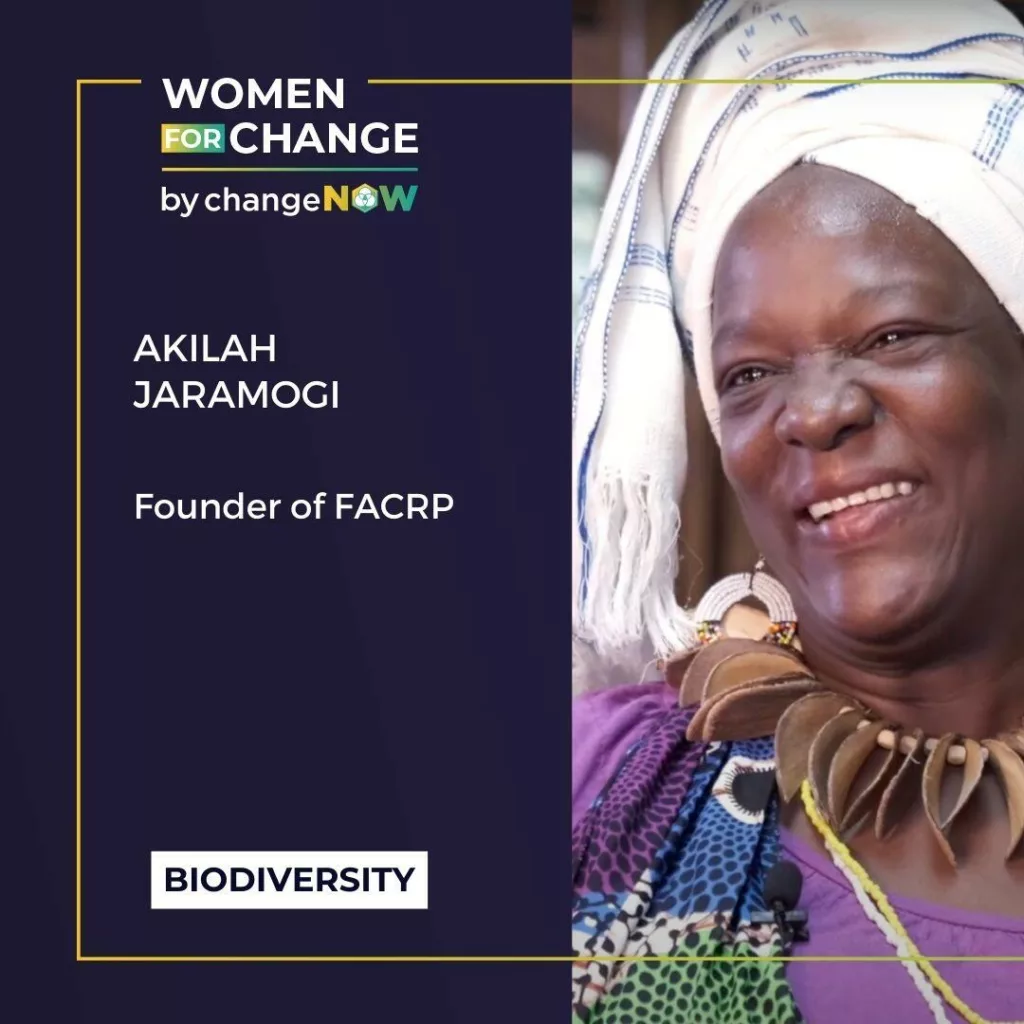 Akilah Jaramogi,
Founder of FACRP, Trinidad and Tobago
Akilah Jaramogi is an environmental activist who is deeply committed to promoting ecological sustainability and protecting nature. Her work focuses on finding new methods of forest conservation and rehabilitation that can help to prevent the devastating trend of forest and bushfires. Through her advocacy for practices such as agroforestry and permaculture, she seeks to reforest the hillsides and create a more sustainable future for us all. Her passion for environmental protection has been a driving force in her fight for a better world.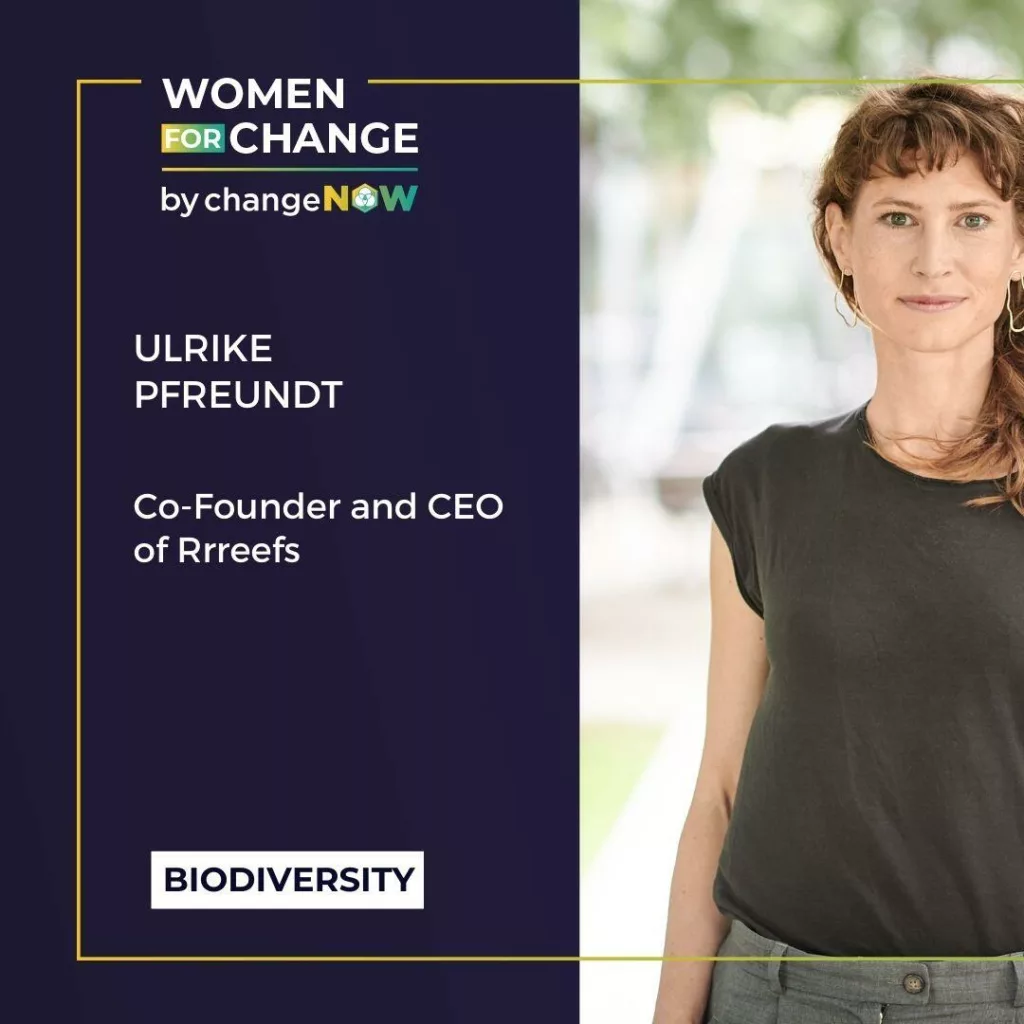 Ulrike Pfreundt,
Co-Founder & CEO of rrreefs, Switzerland
Ulrike Pfreundt co-founded rrreefs in 2020, a project aimed at saving coral reefs and preserving the quarter of all known marine species that call them home. The project uses 3D printing technology to recreate dead reef structures, reviving these vital ecosystems. Ulrike's work with rrreefs is a concrete example of how innovative solutions can be used to protect and restore our natural world.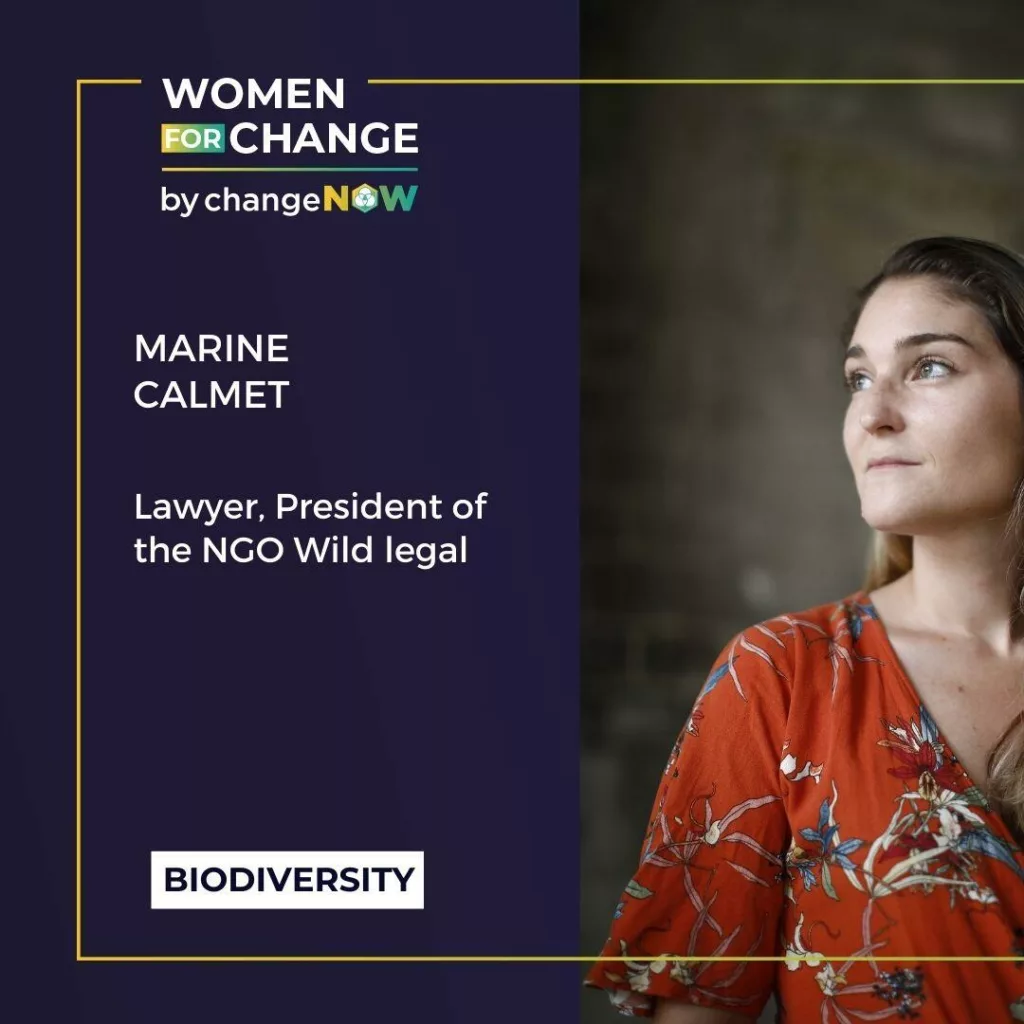 Marine Calmet,
Lawyer, President of the NGO Wild legal, France
Marine Calmet is a passionate advocate for defending the rights of nature and finding innovative solutions to the ecological crisis. Drawing inspiration from the wisdom of indigenous peoples and the intelligence of ecosystems, she works tirelessly to protect our future and inspire a new generation of nature guardians. Through her thought-provoking lectures, insightful publications, and effective advocacy, Marine is committed to finding meaning and practical solutions for our planet's most pressing challenges.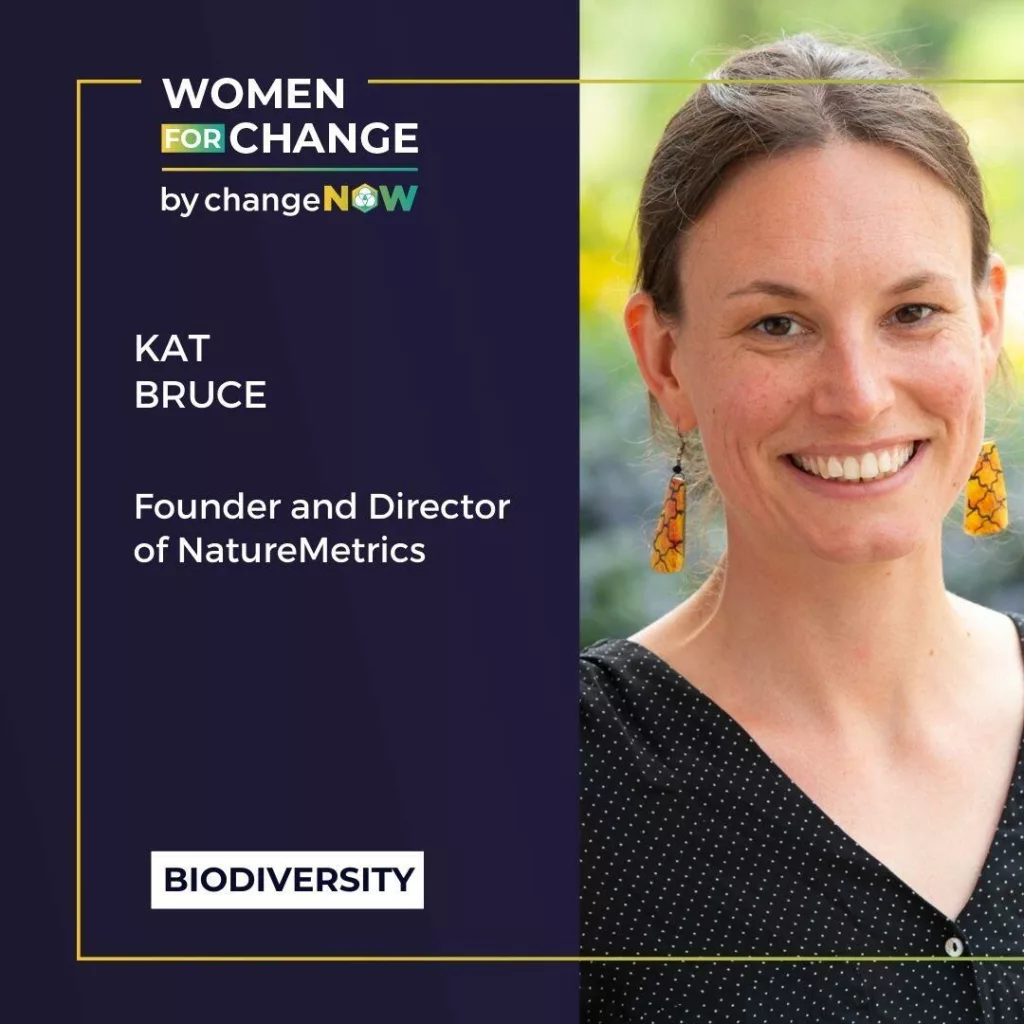 Kat Bruce,
Founder and Director of NatureMetrics, UK
Kat Bruce's mission is to revolutionize biodiversity assessment with her company, NatureMetrics. Kat is dedicated to bridging the gap between research, industry, and policy to advance the field of biodiversity monitoring and ensure better natural world management. By utilizing novel molecular tools, her company provides an unparalleled evidence base to drive environmental decision-making.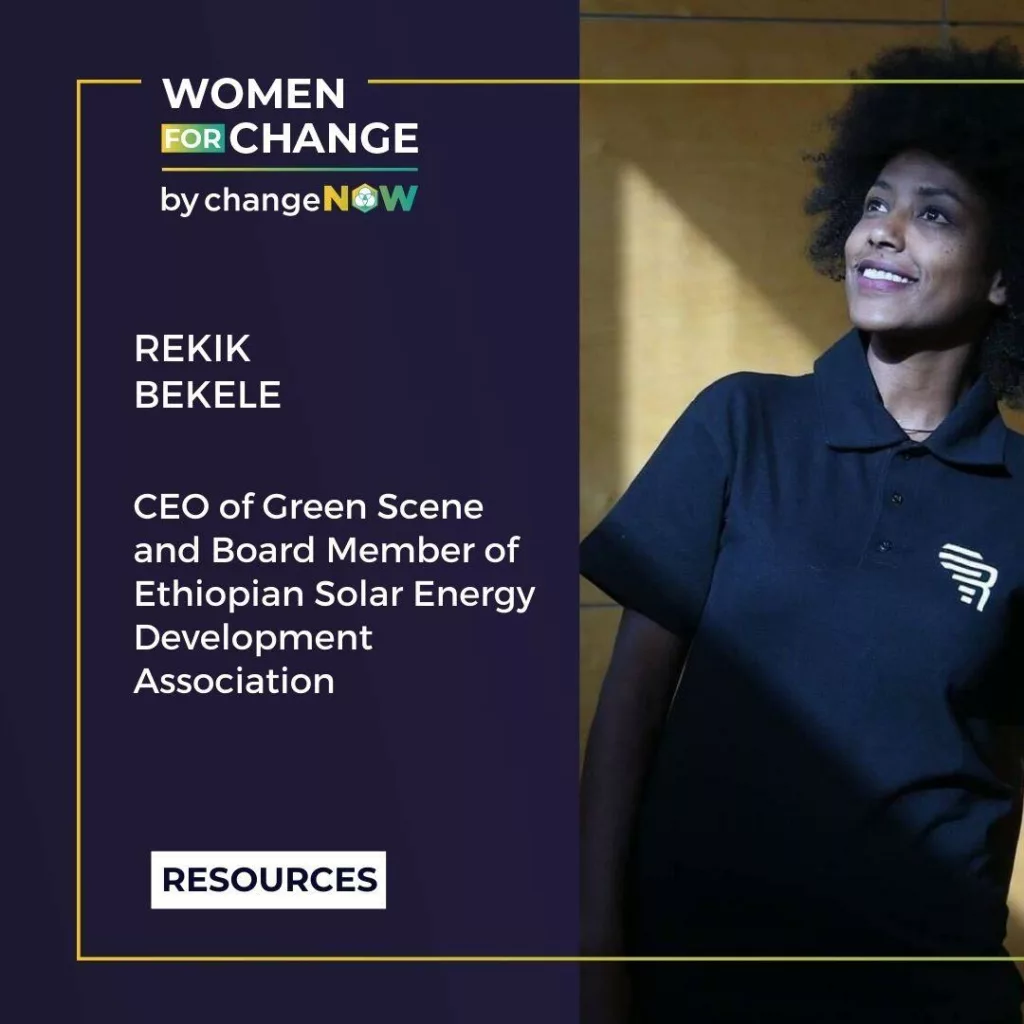 Rekik Bekele,
CEO of Green Scene and Board Member of Ethiopian Solar Energy Development Association, Ethiopia
Rekik Bekele is the founder of GreenScene, a company that provides high-quality solar-powered electrification to off-grid communities in Ethiopia. Since 2016, her efforts have empowered families by giving them more accessible and affordable access to electricity, transforming their lives, and increasing their quality of living.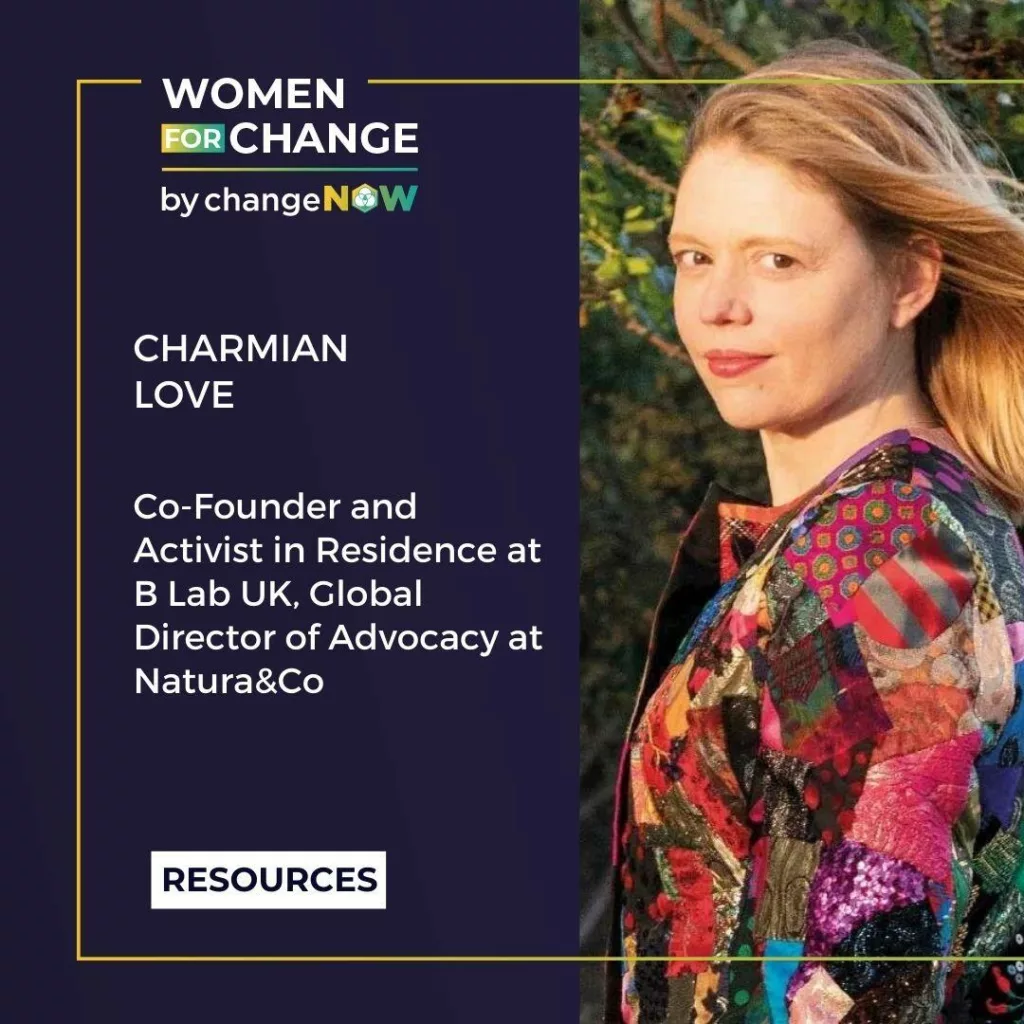 Charmian Love,
Co-Founder and Activist in Residence at B Lab UK, Global Director of Advocacy at Natura&Co, UK
Charmian Love is a highly experienced entrepreneur with over 15 years of experience, dedicated to accelerating the transition to a more regenerative, circular, and inclusive global economy. Her theory of change is centered around the idea that business can be used to create a better world. Through her work, she advocates for a world where businesses become a force for good and drive positive social and environmental impact.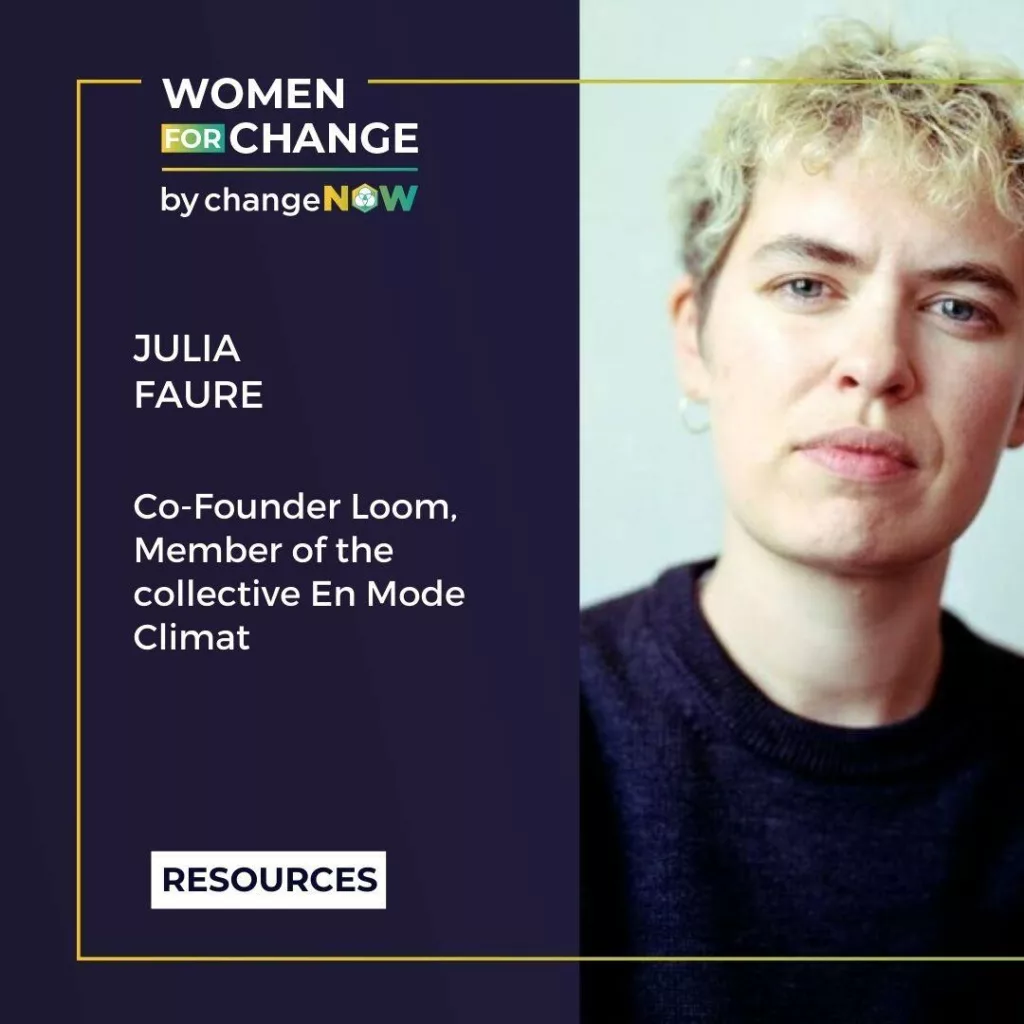 Julia Faure,
Co-Founder Loom, Member of the collective En Mode Climat, France
Julia Faure's sustainable clothing company and her movement "En mode climate" has brought together more than 500 actors in the fashion industry to call for binding laws and regulations that will effect real change in the industry. Through her work, she inspires public authorities to take action and regulate the sector toward a more sustainable and ethical future.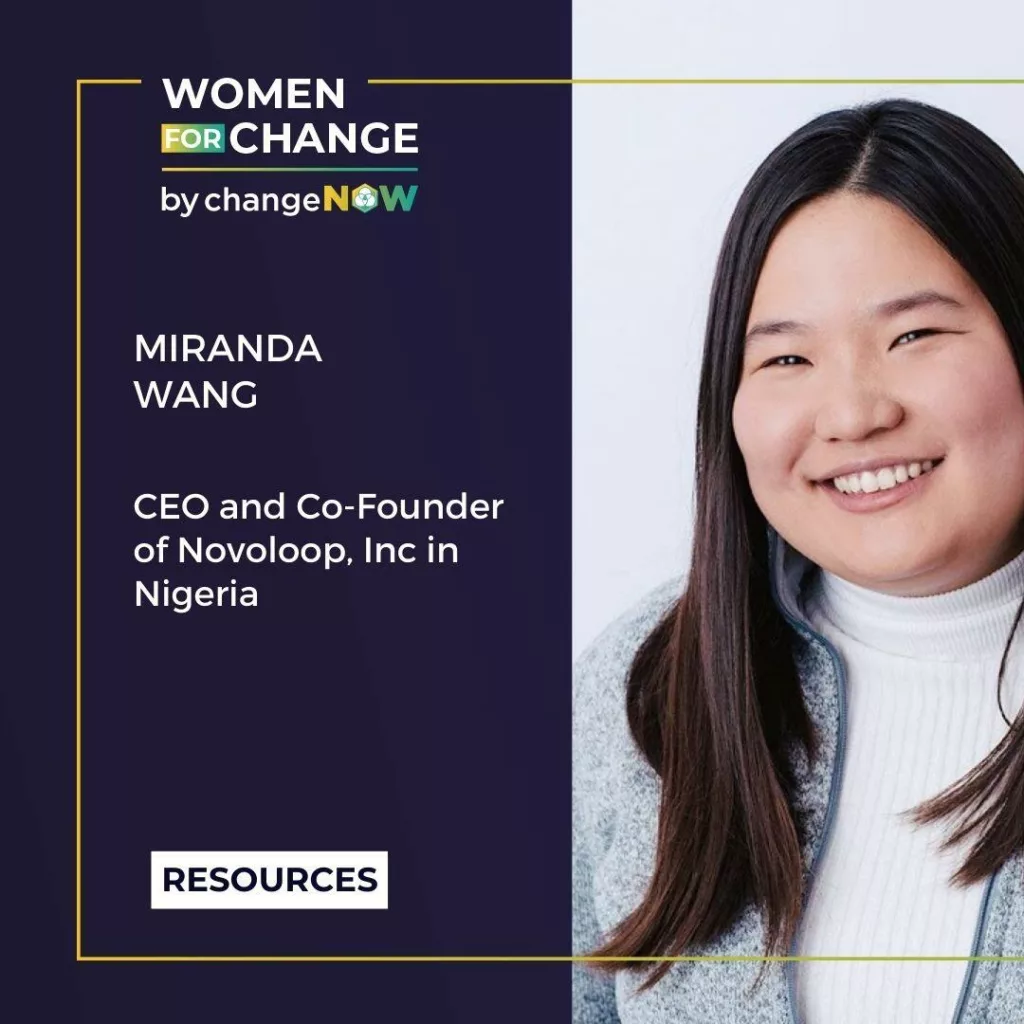 Miranda Wang,
Co-Founder of Novoloop, US
Miranda Wang is the co-founder of BioCellection, a company that uses pioneering chemical technologies to transform unrecyclable plastic waste into valuable chemicals, reducing plastic waste in the environment. Her innovative approach to plastic recycling has the potential to change the way we manufacture and recycle plastic, and she is making significant strides in tackling the global plastic problem.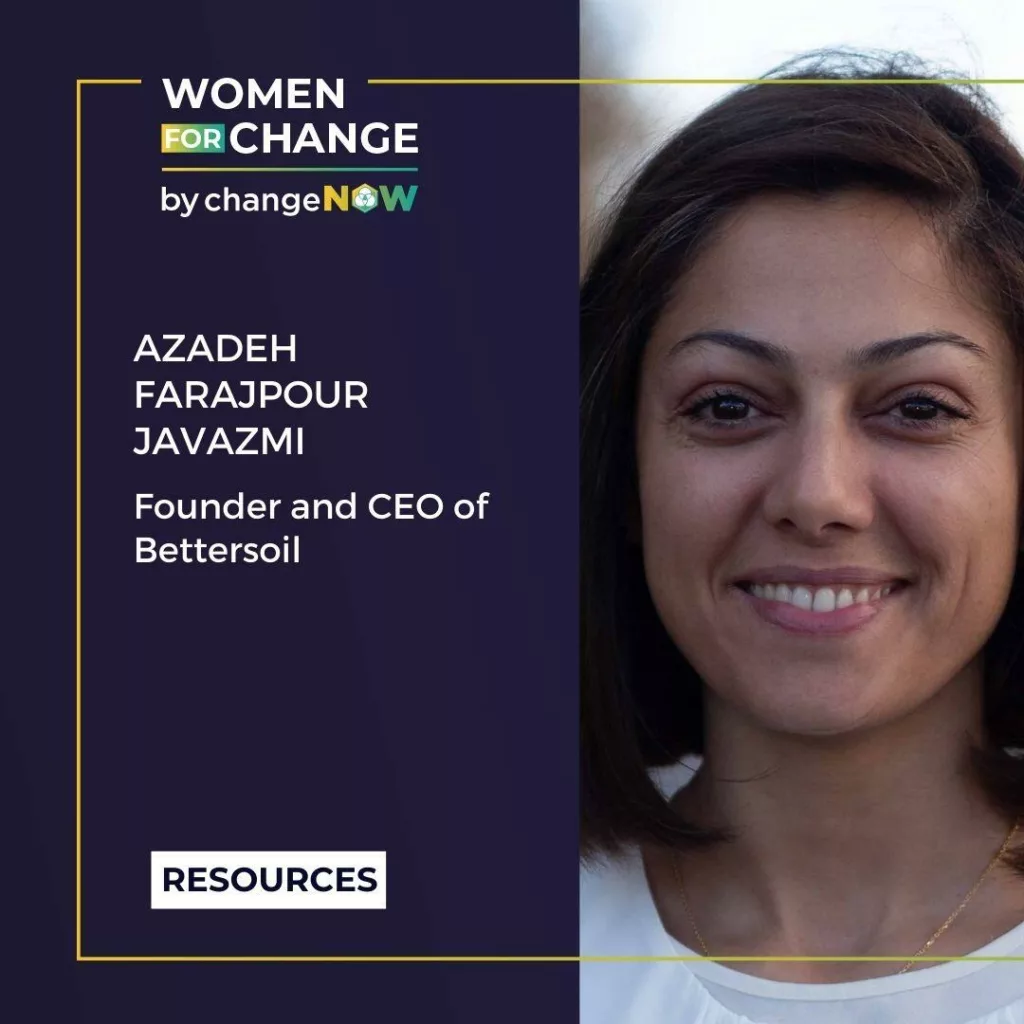 Azadeh Farajpour Javazmi,
Founder and CEO of Bettersoil, Iran
Azadeh Farajpour Javazmi, the founder of BetterSoil, is on a mission to promote sustainable agriculture and save one of the planet's largest carbon sinks – the soil. Her company brings together scientists, farmers, and politicians to bridge the gap between theoretical and practical sustainable agriculture. By doing so, she hopes to promote more climate-resilient agriculture and ensure the preservation of soil health for future generations.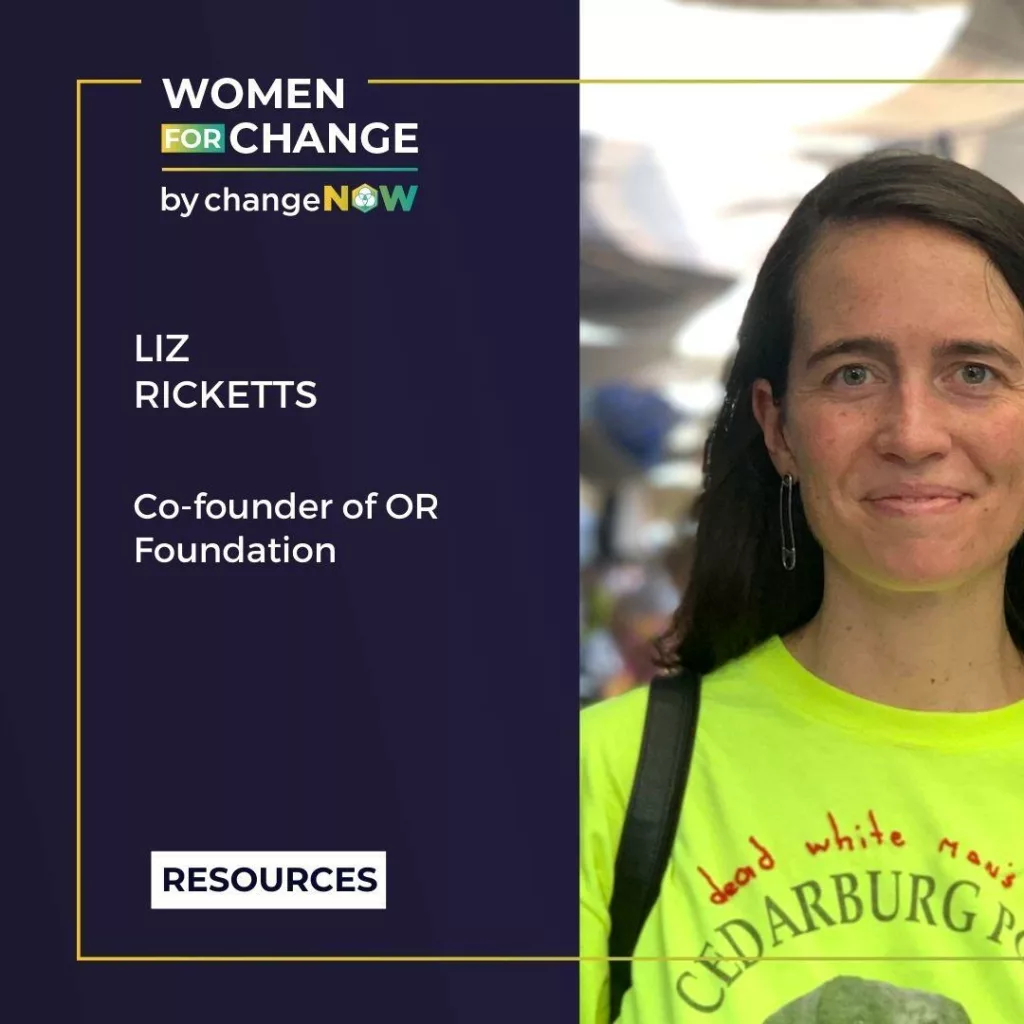 Liz Ricketts,
Co-founder of OR Foundation, US
Liz Ricketts, the co-founder of OR Foundation, strongly advocates sustainability and justice in the fashion industry. Through her work, she emphasizes the need for a circular economy and a revolution in waste technology and has even penned an open letter calling for justice throughout the global supply chain. Her efforts aim to spark a sustainability revolution that benefits all, including the people working in the industry and the planet itself.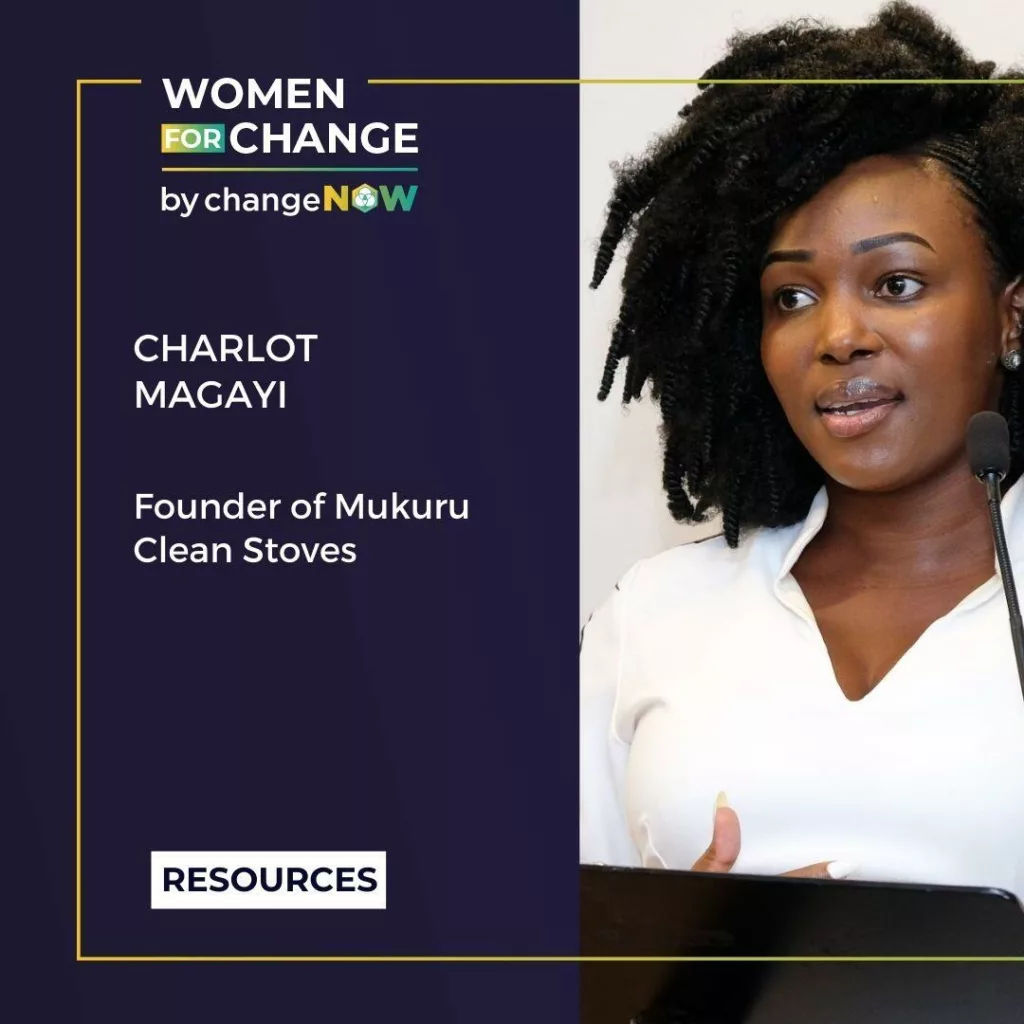 Charlot Magayi,
Founder of Mukuru Clean Stoves, Kenya
Charlot Magayi is a leading environmental activist in Kenya, committed to improving public health by reducing indoor air pollution in low-income countries. She provides affordable cookstoves to people in Mukuru, which reduce toxic emissions by up to 90%, uses up to 60% less fuel, and decrease the risk of burns. Through her work, she is helping to build a cleaner, safer future for all.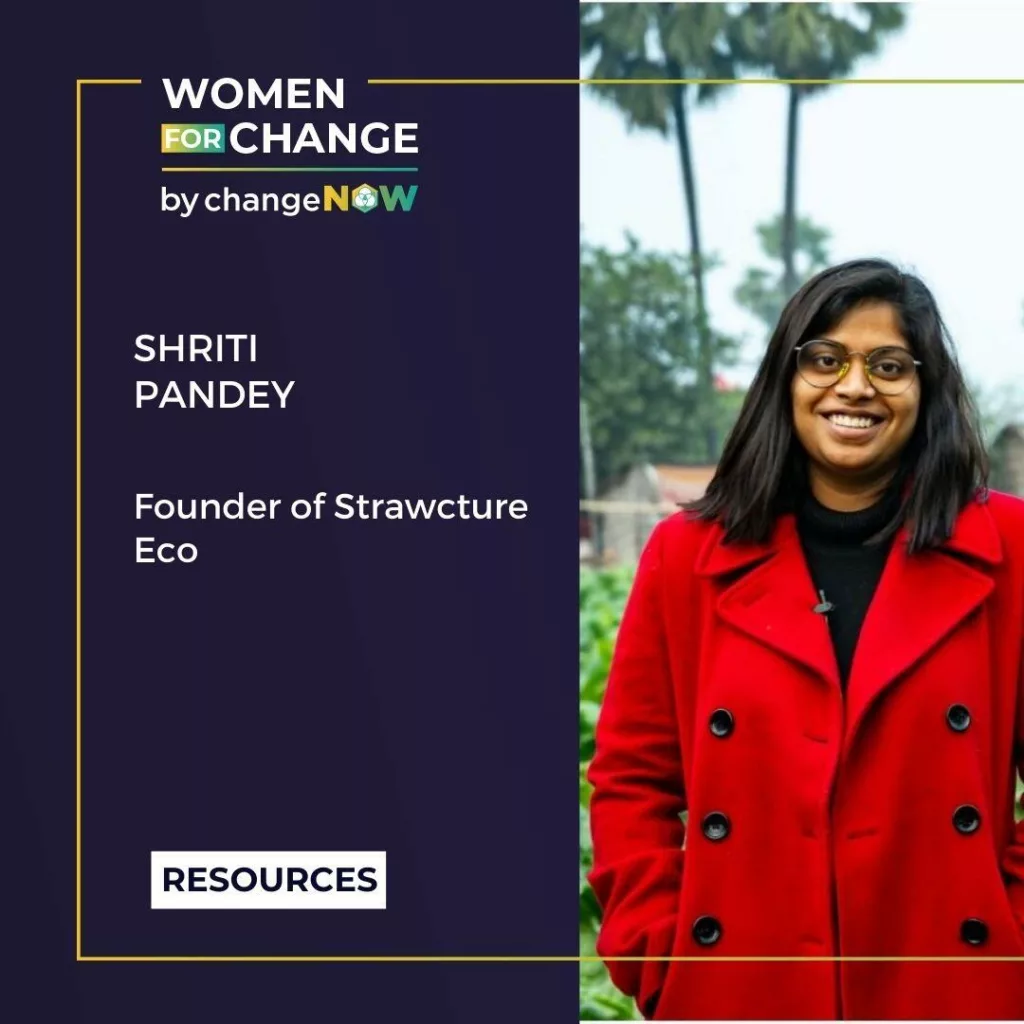 Shriti Pandey,
Founder of Strawcture Eco, India
Shriti Pandey created Strawcture Eco after observing the impact of stubble burning during her time in rural India following her civil engineering studies in the USA. Her innovative use of straw as a building material promotes fire resistance, thermal insulation, and sustainability. By utilizing this abundant resource, she is helping to combat the harmful effects of burning straw and reduce the environmental impact of traditional building methods.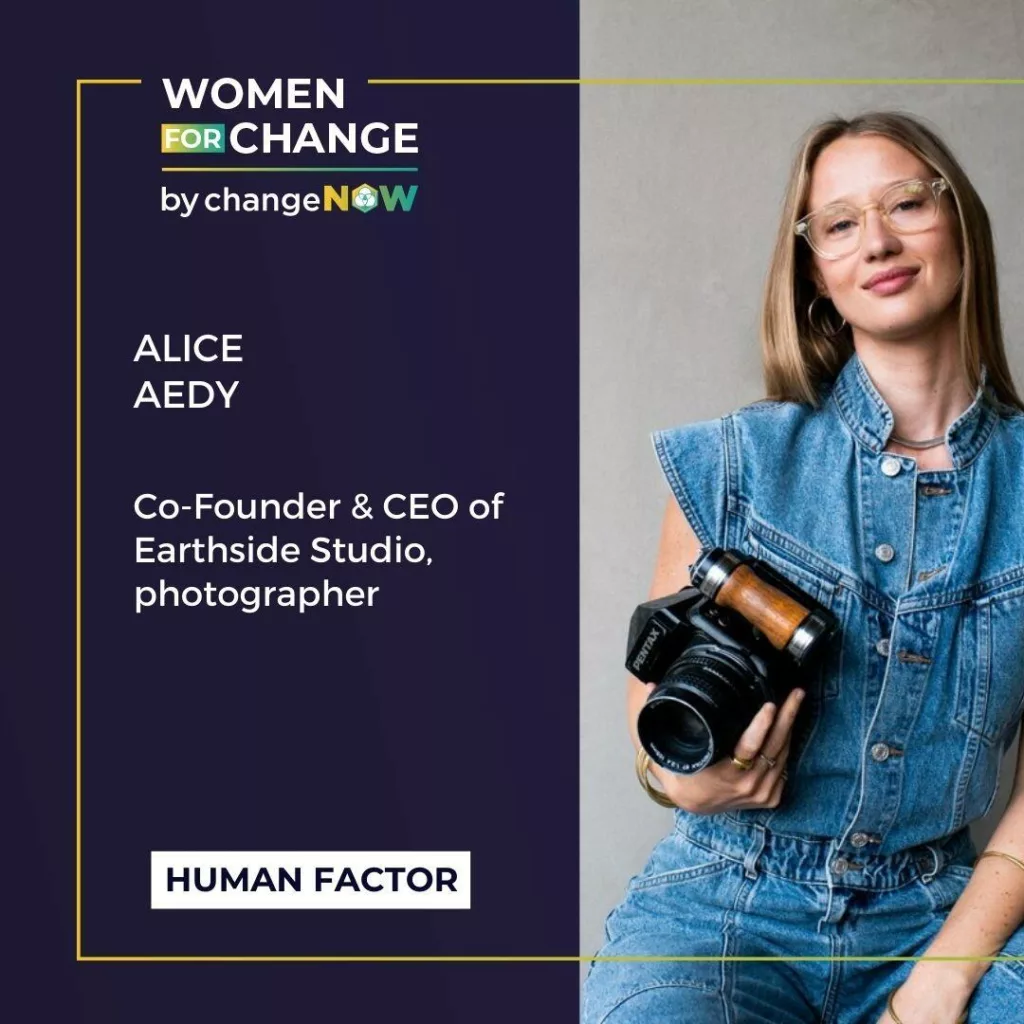 Alice Aedy,
Co-Founder & CEO of Earthside Studio, photographer, UK
Alice Aedy is a passionate storyteller committed to raising awareness about climate and social justice. Through her documentaries, photos, and multimedia campaigns, she works to create a better future by communicating stories that need to be told. Her creative projects address a wide range of topics, from the impact of textile production to the stories of indigenous communities and activists, to breast cancer awareness. Her work is both inspiring and thought-provoking, encouraging people to take action and positively impact the world.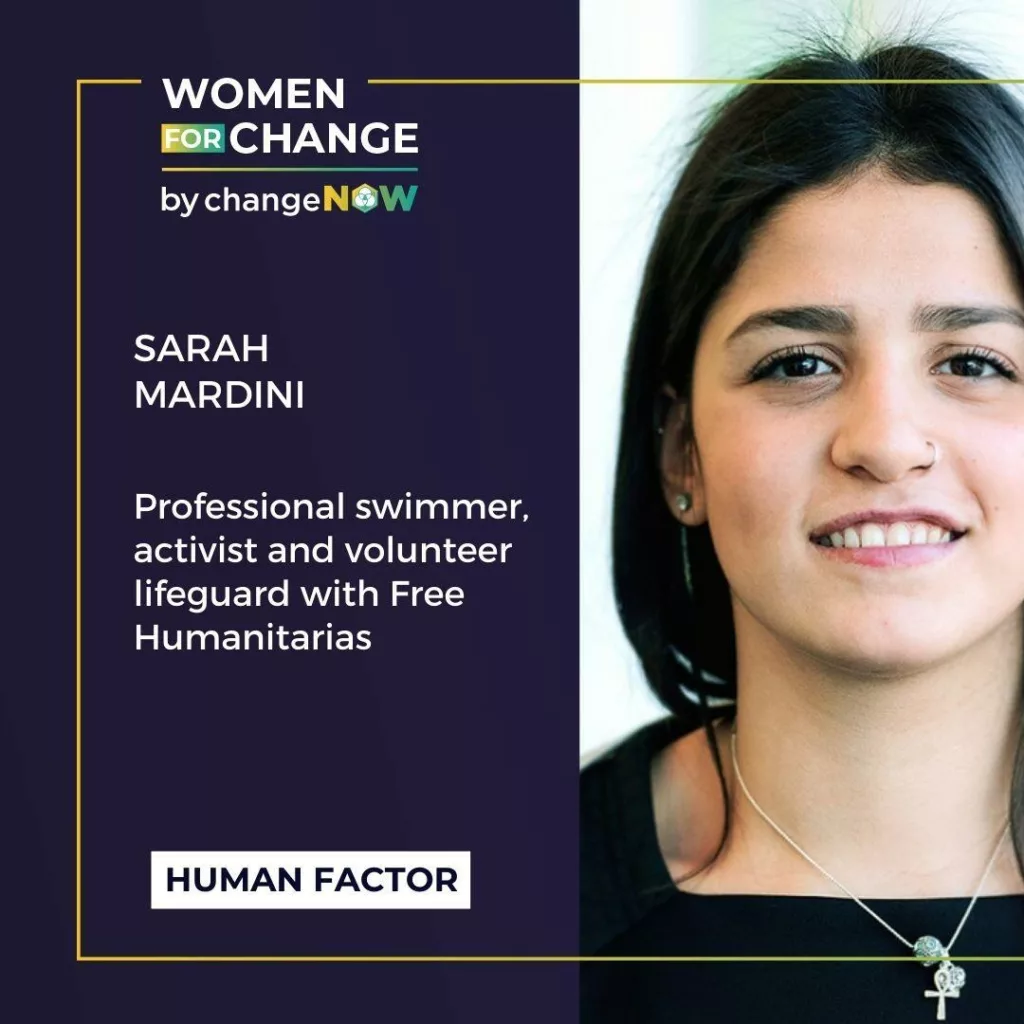 Sarah Mardini,
Professional swimmer, activist and volunteer lifeguard with Free Humanitarias, Syria
Sarah Mardini's harrowing journey of escaping war-torn Syria and finding refuge in Europe is a testament to the resilience of the human spirit. Her commitment to humanitarian work has inspired many to join her in spreading the voices and stories of refugees. Through her advocacy and activism, Sarah is working to create a world where refugees are treated with compassion and dignity.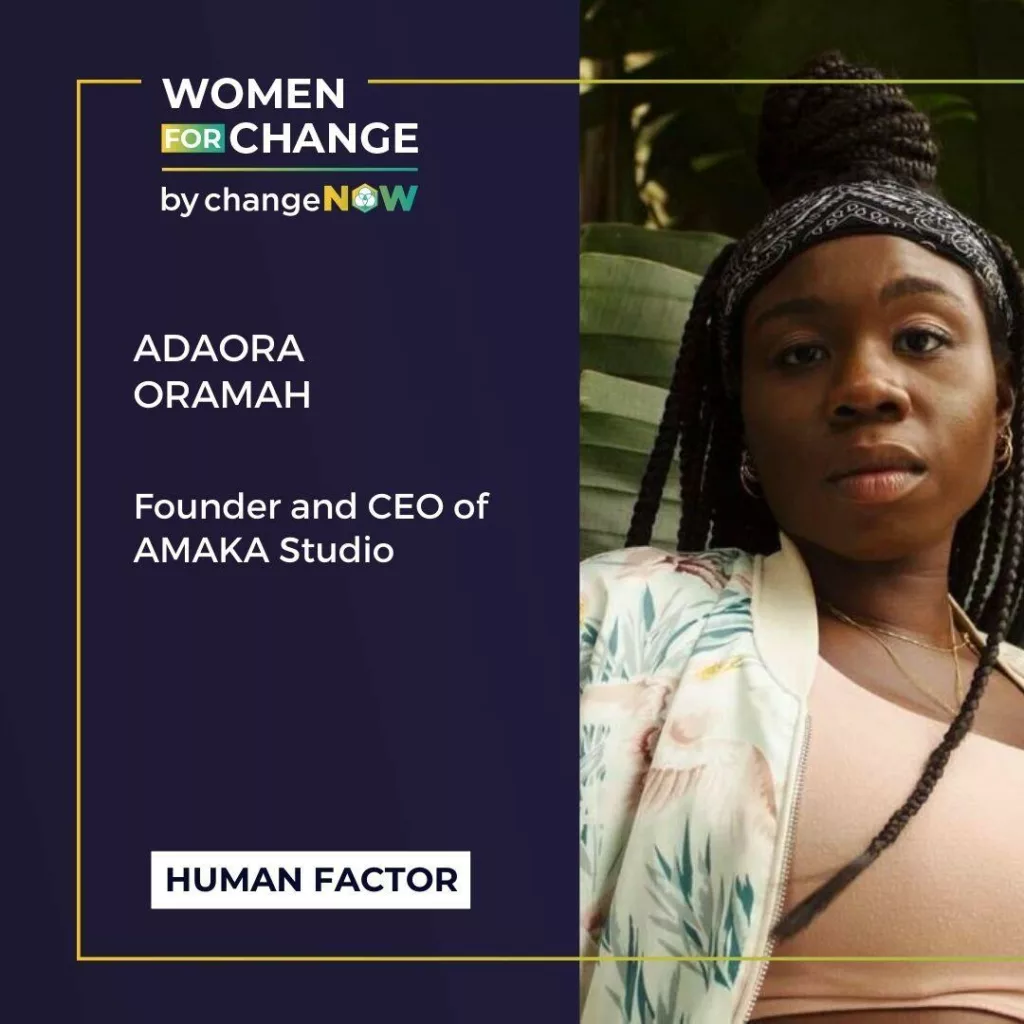 Adaora Oramah,
Founder and CEO of AMAKA Studio, Nigeria
Adaora Oramah is a visionary entrepreneur who founded a digital publishing platform that aims to amplify the voices of pan-African women creators. These creators can share, monetize, and promote their stories through this platform. Adaora is passionate about fostering a sense of community by championing inclusivity in both the tech platform and the diverse content it hosts. She recognizes the importance of giving voice and space to less-known experiences and is committed to empowering women and promoting diversity in the storytelling landscape.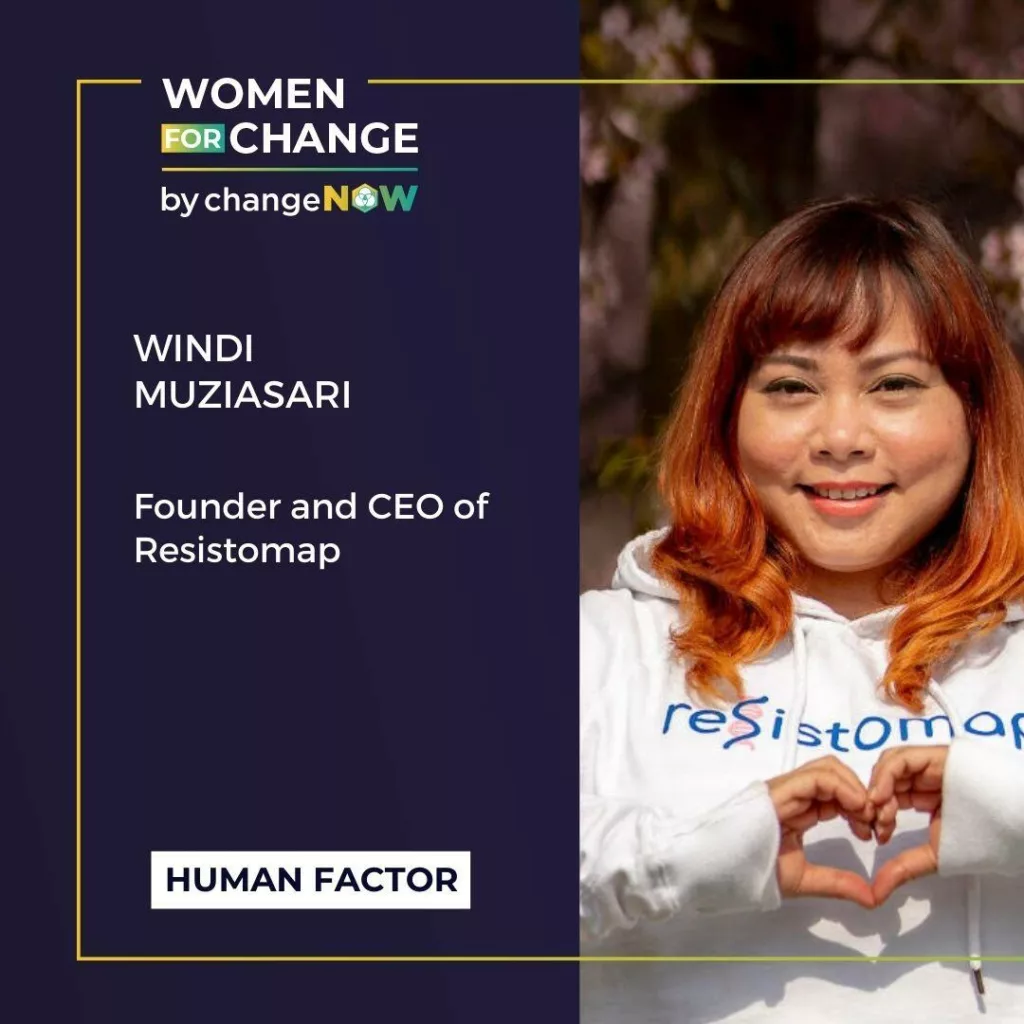 Windi Muziasari,
CEO and Founder of Resistomap, Finland
Windi Muziasari's passion for science and research led her to discover the alarming threat of antibiotic multi-resistance (AMR) during their Ph.D. studies. She founded Resistomap, a global initiative aimed at mapping and mitigating the deadly effects of AMRs. She hopes to save millions of lives by building a database. Her dedication to this global health issue inspires those seeking to impact the world positively.
Their contribution to creating these new narratives is essential to building a more desirable and sustainable world. Their tireless work and dedication to making the world a better place not only inspire us but also gives us hope and a sense of responsibility to do our part in creating a better future for all. We celebrate their achievements and thank them for their unwavering commitment to a more sustainable and just world, which is a powerful reminder of the importance of individual action and breaking down barriers to create a more equitable and just world.

These women are leading the way.
WATCH THEM THRIVE!