Are you going to speak in a session at ChangeNOW 2021 ? Great ! We are looking forward to seeing you on May 27-28-29. 
Here is a quick guide for you to read before your intervention
How does a regular ChangeNOW session look like?
Every ChangeNOW session has a duration of 1 hour and 15 minutes. This time is divided into three parts.
First part: The keynote format for around 15 to 20 minutes* (with one speaker)
Second part: The panel of solutions format (with 2 to 3 speakers) for around 20 minutes*
Third part: The fireside chat format (with one speaker) for around 15 to 20 minutes*
* The time is only given as an indication and can vary from one session to another. Few sessions also include a fourth part.
Keynote Panel of solutions Fireside chat
Speakers take part in one and only one of these formats. The format has normally been communicated to each speaker.
This means that the time on stage for each speaker is between 15 to 20 minutes. All the sessions from all the stages will end and start at the same time. There is no time allocated between two consecutive sessions which means that the sessions always end on time. The moderator will be the time keeper. Make sure to respect the time that is allocated to you as a speaker.
The moderator will introduce and close the session and will call each of the speakers on stage.
There are no questions from the audience.
The usual audience at ChangeNOW includes entrepreneurs, innovators, investors, CEOs, companies, international organizations, city representatives and media, from all around the planet.
We will not program sessions with only males or only female speakers. For those sectors where males speakers are more common, we take the time to go and look for the female speakers that have relevant content to share. We aim at having 50% of female speakers at our Summit.
We promote speakers from all backgrounds and geographical origins and with out of the ordinary academic paths.
Tips for being a good ChangeNOW speaker
Besides the basic requirements for any speaker for an international Summit such as ChangeNOW:
Good oral skills,

Fluent in English,

Keynote speakers with prior experience with this format,

Engages with the audience,
We take it further with our ChangeNOW signature setup. Here are our tips:
Have an action-oriented speech,

Be concrete concerning your solution,

Explain clearly what the positive impact of your solution is,

Keep it positive, we have heard enough about everything that is wrong, we want to hear you on how to tackle our global issues. Of course, you can mention the context of your actions and why we need to act on your specific topic,

We encourage speakers that will be interviewed with the fireside chat format to share their personal story and how it was relevant to the actions you are currently undertaking,

Be honest and feel free to talk about your failures,

Uses figures / numbers if relevant and refer to reliable sources,

You are free to interact with the audience since there will be no questions from the audience,

Feel free to share your impression of the Summit on stage,

Put people in a position that they can relate to what you say,

Share your point of view of how the sector you are working in is evolving.

For the panel of solutions, chill and try to create a natural and fluent conversation with the other speakers.
We have partnered with X and X which are coaching consultants that can help you improve your performance on stage. We have discounted rates for you.
You can contact them directly here: email.
The moderator, or MC
The moderator of the session will contact you to schedule a call. You both need to discuss the content that you would like to share on stage and see how it fits with the topic of the session prepared by ChangeNOW.
Feel free to tell us if you would like to schedule a call with the other speakers from your session as well.
Your personal form/URL
We have created a unique url to allow you to access a form with your personal information. 
When you will access your form you will see that we have started to fill-in your information. Please complete the missing information or correct it if needed.
Closer to the Summit, we can use this same form to provide you with valuable information. If this is the case, you will receive an email to be informed.
Your banner
Your photo and bio will be used for our Speakers page and other communication channels. We use it as well to create your personal banner which you can download from your personal form.
We warmly invite you to use your banner to share through your preferred social media about your participation at ChangeNOW.
Visual support on stage (for keynote or fireside chat)
You can upload your file(s) here before the 20th of May. This will allow us to test the file with our backstage team and make sure that everything goes smoothly for you on stage.
You can still upload your files after this date however we cannot guarantee that it is tested by our backstage team.
ARRIVING AT THE GRAND PALAIS EPHEMERE IN PARIS
Accommodation and transportation information
Please visit our Practical Information website for suggestions concerning accommodation.
We have also partnered with the Novotel Paris Les Halles **** located at the heart of Paris' 1st district. It is only 15min away from the Grand Palais by Metro Line 1. Our preferred rate amounts to 219€/night (+ approx. 3€ of local taxes), breakfast included (Instead of 389€/night). Please let me know if you are interested in this option before December 20th to benefit from this preferred rate.

For those of you who can't avoid taking the plane, ChangeNOW has negotiated a preferred rate with Air France KLM. Check our Practical Information website.
Your tickets
We will automatically issue your ticket for the three days of the Summit. You just need to present your ID at the Speakers Entrance.
As a speaker at ChangeNOW we will offer you 2 complementary tickets for your guests. We will send you the codes to use on our ticketing platform a few weeks before the Summit.
Please tell your guests that their code needs to be used on our ticketing website and they should take a "General" type of ticket which gives them access to the 3 days of the Summit and the possibility to schedule BtoB meetings.
Speaker's lounge
You will have full access to the Speaker's lounge during the three days of the Summit.
We encourage you to schedule an appointment with your moderator and with the other speakers from your session. This is the perfect place to do so.
Map
As soon as it is available, we will share with you here a map showing the location of the Speakers Entrance.
We will also share with you the locations inside Grand Palais Ephemere of the Speaker's Lounge and the stages.
Address of the Grand Palais Ephemere
Please find the address of the venue, the public transport (metro, RER, bus), shared bike service Veli'b and parking for cars at our Practical Information page.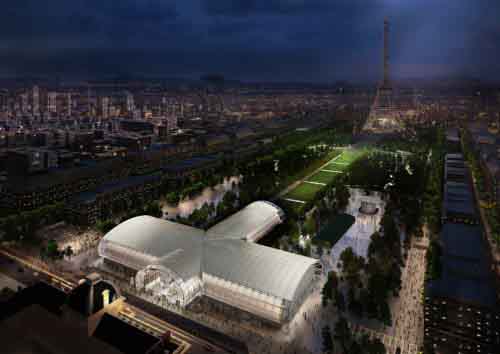 Meeting point
You are expected at the Speaker's Lounge 30 minutes before the start of your session. You will gather there with the other speakers and the moderator.
Mics
from the Speaker's lounge we will take you backstage to give you the necessary equipment.
Reserved seats for you
Speakers will have reserved seats on the first row.
Video recording consent
All the sessions will be recorded and shared on our YouTube channel. If you are not ok with this, please let us know.
NETWORKING POSSIBILITIES WHILE YOU ARE AT CHANGENOW
There are multiple options for you to network while you are at the Summit.
Networking meetings
once we issue your ticket, you will receive an email "ChangeNOW: networking platform is open!". There is a link in this email to create your profile on a website, you will then access the list of all of the participants. It will also allow you to ask or reply to networking meetings.
Book store
Guide MerciBOOKoup (MB) is a non-profit organization that will organize a Book Store during the three days of the Summit. Feel free to contact them if you would like to have your book(s) included. You can also schedule book signings. Please contact Amina at share@mercibookoup.org.
World Expo
If you are looking for maximum visibility during the 3 days of the Summit, you can apply to exhibit at the World Expo.
Pitch sessions
If you are looking for funds to scale your solution, you can apply to pitch your solution in front of a jury of investors and experts who will give you a feedback. If you would like to be part of the jury please write directly to Julien (julien@changenow.world with Quentin in copy quentin@changenow.world).
Job Fair
If you are looking to recruit, find the best profiles at ChangeNOW during the Impact Job Fair.
Media requests
if you would like us to contact you directly, or your PR, to schedule interviews, please send an email to changenow@looksharp.fr.
Press&Investors Book
We will prepare this document to include all of the solutions and innovations from the entrepreneurs attending ChangeNOW. If you think you should be included please fill in this form.
Official Program
Take a look at our official program, there are probably other speakers that you would like to listen to and meet at the Speakers Lounge.
We are always available to help you organize your participation. However given the size of the Summit, and the more than 300 speakers expected at ChangeNOW, after Friday the 14th of May we will prioritize our emails and will answer first those with the subject starting with "URGENT". Please make sure to write to Carolina AND Quentin, carolina@changenow.world, quentin@changenow.world. Thank you for your understanding.
You can also reach us on our mobile phones: Carolina +33 603284615 or Quentin +33 620934677.